I went to Puerto Galera for the first time last April 11, 12, and 13. MSG, my high school barkada, have been planning this trip since March and I'm happy that it pushed through. We are about 24 or 26 in our barkada, about 11 or 12 came on the meeting 4 days before we left Manila, and only 7 came (Maruel, Arvin, Chan, Demet, Carlos, Jon, Dex) on April 11. It still fun even if we are just only 7 but it would have been great it all had come. Wishing all of you have been there with us, hehe! :)


Ok, I don't know where to start, haha! There are so many stories to tell, haha! I'll try to summarize what we did in those 3 days 2 nights trip. I'll just try to use an approximated time for the summary as I can't remember the exact times now. I will also be using tagalog so that I can summarize it faster. I'm not good in English, haha! :D
Day 1
2:30am: Simula ng paggising at gisingan.
4:30am: Kikita sa Tritran/Jam Bus Terminal sa Kamuning.
5:30am: Eto siguro yung oras ma umalis yung bus. Hinintay pa namin si Jon eh, hehe! :)
9:00am: Oras na dumating kami sa Batangas pier at sumakay sa boat.
10:30am: Yehey! Nasa Puerto Galera na kami!
11:45am: Salamat, nakahanap narin kami ng matutulugan pagkatapos ng lagpas 1 oras na paghahanap.
12:00nn: Kain muna ng tanghalian. Ilabas ang mga baong delata, hehe! :)
12:30pm: Nagsitulog kami, wala kaming mga tulog, haha! :D
4:00pm: Maglibot-libot, swimming, picture picture, swimming, maglibot-libot!
7:00pm: Kain muna ng hapunan. Hindi lang delata ulam namin ngayon, bumili ka kami ng barbeque.
7:30pm: Bonding pagkatapos kumain. Kwentuhan lang, wala pang inuman.
9:00pm: Libot-libot uli sa beach.
10:30pm: Balik na uli sa room. Gusto ko na maligo saka inaantok narin ako.
11:30pm: Oras na nagsimula na akong matulog.
Day 2
2:00am: Eto yung oras na nakatulog talaga ako. Ang ingay ni Arvin, Demet saka Jon eh. Ang kukulit, haha!
8:00am: Oras na ako'y nagising at kumain ng almusal.
9:00am: Nagswmimming kami nina Chan, Demet, at Dex. Tulog pa si Arvin, Carlos at Jon.
10:30am: Bumalik na kaming apat sa room. Tulog parin yung tatlo, hehe!
11:30am: Kain ng tangahlian tapos halo-halo.
1:30pm: Nagpahenna kami ni Jon.
3:30pm: Maglibot-libot, swimming, picture picture, swimming, maglibot-libot!
7:30pm: Kain ng hapunan.
9:00pm: Bonding sa beach. Inom ng Mindoro Sling at kwentuhan.
10:00pm: Nahihilo na ako, kulit kasi ni Chan eh, gusto yata ako malasing, salin ng salin ng Mindoro Sling kahit na may laman pa yung baso ko.
10:30pm: Naghahanap kami nina Arvin, Demet at Carlos ng cr tapos nakita namin ni Andrew Bongato. Nagbakasyon pala siya dito, hehe! :)
11:30pm: Balik na uli sa room. Antok na ako uli, hehe! :)
Day 3
8:00am: Gising na ako at kumain ng almusal mag-isa. Tulog pa silang lahat eh.
9:00am: Nagsimula na sila magsigising pero hindi na kami nakapagswimming kasi wala ng oras.
9:30am: Lumabas kami ni Arvin, Demet, Dex para bumili ng mga maipapasalubong.
10:00am: Bumalik na ako sa room para makapaghanda sa pag-alis.
11:00am: Biglang nagpakita si Mickey! Aba, nandito ka rin pala! Haha! :D
11:30am: Checkout na sa room. Naglalakad na kami papuntang beach tapos nakita nanaman namin si mickey. Picture picture muna tapos lakad na uli.
12:00nn: Nakasakay na kami sa boat pabalik ng Batangas pier.
1:30pm: Nakasakay na kami sa bus pabalik ng Manila.
4:00pm: Nasa Manila na uli kami. Sa Sm North na kami bumaba kasi nagugutom na daw sila, kain daw muna.
4:30pm: Kain sa Yellow Cab.
5:30pm: Uwian na...
There are some people asking me how much did we spent in our trip to Puerto Galera so here it is:
307Php Bus fare, Round trip
380Php Boat fare, Round trip
4500Php for a 4 to 5 person room (capacity of the room is negotible) for 3 days 2 nights

All in all, thats 307 + 380 + (4500/7) = 1330. A budget of 2kPhp to 3kPhp is sufficient not unless you want to ride a banana boat (200 per head), go island hopping and snorkeling (2kPhp?), and/or go Para sailing (1.5kPhp per head). I didn't factored in the expenses we use for our food because we brought canned good and just bought rice from the "carinderia" so I didn't really know how much we spent on food. All I can say is Puerto Galera is like a much cheaper alternative to Boracay, hehe! :)
So that's all. Pictures can be found at my
Puerto Galera
album, Arvin's
MSG 7
Album, and Jon's
mSg Puerto Galera
album. Sorry for my crappy summary as I can't summarize it efficiently because, like what I have said above, there are so much to tell that I don't know where to start! :D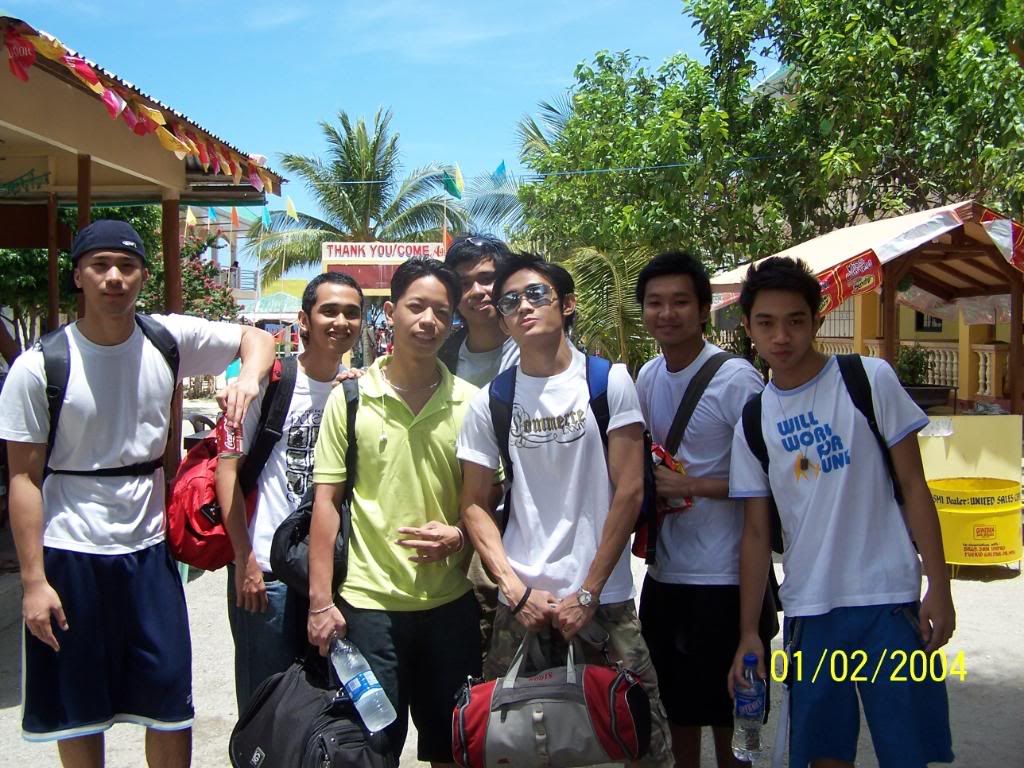 "Salamat sa Puerto Galera! Salamat sa inyo Puerto Boys! Mamimiss ko kayo! Salamat sa lahat! Grabe, ang saya!"